Brick and Forge Taproom
2901 E. Central Texas Exp
Killeen , TX 76542
P: (254) 833-5061
Member Since: 2020
Main Contact: Mr. Todd Smith
BRICK & FORGE TAPROOM
We are an American style restaurant serving up a unique variety of hand-crafted food, local craft beer, and craveable cocktails. Our mission is to offer you, our guests, a local place where you can enjoy a distinctive variety of menu items and have a great time with your family, friends, partner, or business luncheon. Great Food and Great service is our mission. We pride ourselves on being Hand Crafted and Locally Born. These are the pillars of who we are.
LOCALLY BORN
Brick & Forge Taproom was created by a local team of like-minded individuals in our kitchens and behind our bars. Not by executives in a far off board room. We are not just another link in a chain… Rather, Brick & Forge Taproom is just a local group of people who wanted to focus on crafting great beer, create fresh dishes, and be that fun local spot in our great community.
HAND CRAFTED
Hand crafted, scratch kitchen, created with heart. . .
There are many ways to say that we put time and love into the preparation of your food. This was one of the first pillars of this concept. We wanted to have great hand crafted food that would be tasted in every bite. Whether its hand cut ribeyes, hand breaded boneless wings, fresh dough made daily, or something as simple as in-house cut fries. We wanted our guests to be able to taste the difference. We whole-heartedly think that food made with a little bit of love just tastes better!
HAND CRAFTED FAVORITES
Comfort food is described as food that provides a nostalgic or sentimental value to someone. Were cookin' up some of America's favorites. From chicken fried chicken to our signature mac and cheese. We've got something on our menu that's going to make you think of home. Then you add in some taproom eats, or as we like to call them, beer friendly food! Jumbo wings, hand-tossed pizza, juicy burgers and more! There is no way you're leaving The Forge hungry!
SOUTHERN COMFORT WITH A TWIST
Comfort food with a "Forged Twist". We pride ourselves on thinking out of the box on some of our most loved food traditions. This brings life to dishes such as our famous BBQ Pulled Pork Rolls, Sea Salt Caramel Fries, and our unique twist on street tacos. Familiar but freshly twisted.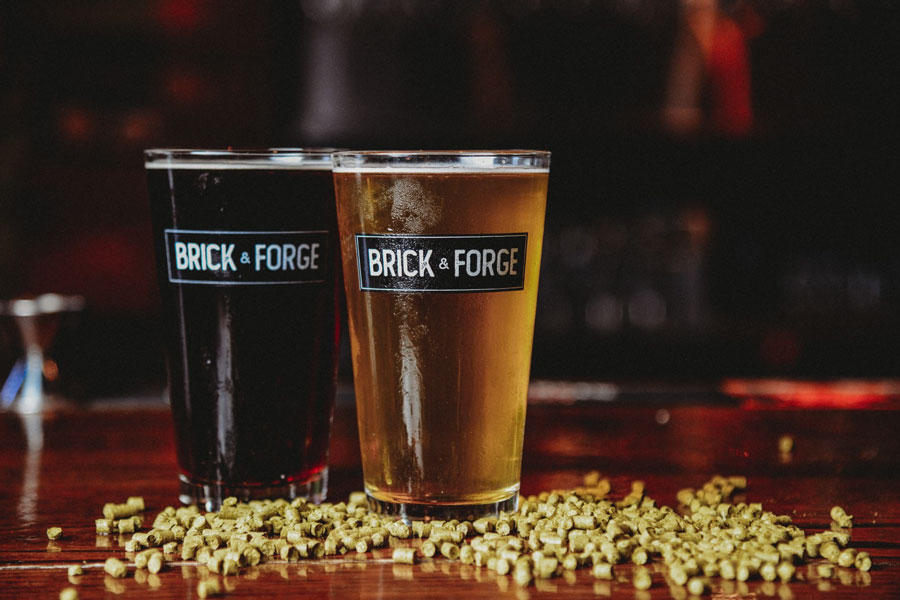 REAL CRAFT BEER
A dream to reintroduce the public to more flavorful, craveable and long-standing traditions of beer. Brick & Forge Brew Works was birthed to fulfill just that mission. It is our goal to establish high levels of quality, consistency, and innovation along the way by expanding the minds of beer drinkers and connecting them with the most diverse brewing culture. We are a beer loving nation and there has never been a better time or place to drink beer than with here at Brick & Forge Taproom.
CRAVEABLE COCKTAILS
Have a seat and get your taste buds ready for some fun! Try some of our classic cocktails like The Sazerac Rye and our take on the famous French 75. Or, check out some of our own craveable concoctions like our refreshing Katydid or our guest favorite Paradise Punch. All of our drinks are handcrafted from our team of mixologists. We've got a cocktail for just for you!
Connect With Us: